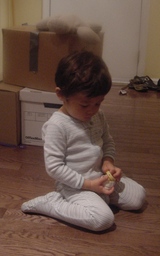 夜。
読んでいた絵本も飽きてきたよう。陸の目がトロンとしてきた。
そう、もう ベッドに入る時。
一日の終わりを告げる時。
陸が眠る前のチョットした儀式(というほどでもないが)をする時。
パジャマに着替えて、ミルクボトルを片手に、目につくすべての物に指を
さしながら、「おやすみ」(Good night)と、声をかけ始める。
「グッドナイト・テェディー(熊のぬいぐるみ」
「グッドナイト・カップケーキ」
「グッドナイト・トットー(お父さんの意味)」
窓越しに向かい
「グッドナイト、トレイン」
「グッドナイト、バス」
「グッドナイト、スター」(星が出ても出ていなくても)
寝かしつけて、部屋の明かりを消すと
「グッドナイト・ライト」
いつ頃から、この子はこんなことをするようになったかなぁ?
毎夜、寝かしつけているくせに憶えていない。(笑)
でも、この習慣のきっかけになったのは「おやすみ おつきさま」という絵本。
陸が産まれてから「おやすみ おつきさま」を一番最後のストーリーとして、毎夜、読み続けたからでしょう。 この本の作家はマーガレット・ワイズ・ブラウン、1947年に出版されて以来、アメリカでは、幾つかの世代を通して大人気の子供の絵本です。
母がこの本を読んでくれたのは憶えているし、また母もこの本の中に彼女の両親の想い出が詰まっているといっています。そして今、母になった私が、陸にこの本を読んであげられることは、嬉しいことですね。
子供がいなかった時、「なにこの本?」と思ったぐらい、シンプルな本。でも、そのシンプルな言葉の裏には、限りない創造性を育ませるものがあると、今になって分かります。
「おやすみ おつきさま」は、グッドナイトという言葉を繰り返しながら、夜の怖さを和らげ、子供達の心を落ち着かせ、そして、なにより、子供達に眠りを誘ってくれるよう。
今日一日、笑顔で。
"Good Night Moon" is a simple classic and one of my favorite children's books. I remember my parents reading this book to me when I was little, and it's a pleasure to see our son, Riku, enjoy it. This is a perfect night-time book, with the reputation of saying "good night" to everything putting children to sleep. (And often putting me to sleep too) (laugh).
Riku likes flipping the pages to find his favorite objects. For him, it's "Good Night" Star, Teddy bear, and light. It's a ritual for him in the evening, to know the day is over.

応援おねがいします。
人気blogランキング Thanks for visiting!