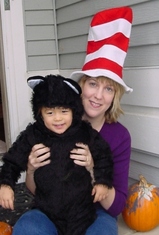 今日はハロウィーン。  
たくさんの衣装を纏った子供たちが、カボチャの袋を下げて、Trick or Treat (ごほうびくれなきゃイタズラするゾ。)と近所の家々へと出向かいます。  
ご存知のようにハロウィーンはアメリカ独自な行事で、小さな子供を持つ多くの家族には大人気、家族ぐるみで盛り上がっているよう。(笑)
幸い、今日のシカゴは暖かく、沢山の子供達が我が家のドアステップへ訪れました。この日は最近引っ越した私達にとって、近所の人々に会う絶好のチャンス。子供達にお菓子を配りながら、隣人達と交流することができました。
さて、ハロウィーンといったらコスチューム。訪れた子供達の衣装は、定番のドラキュラ、白雪姫、黒いマントにくるまった死神はもちろんのこと、最近話題を集めた Mr。インクレディブルやパワーレインジャー(これホント)などなど。
また、友達の中には、市場品を避けて、自分でエルビスのコスチュームを縫いあげたお母さん、大きなハッポースチロールを食パンの形を切り抜いて、子供にピンクのつなぎを着せて「ハムサンド」のコスチュームをつくったお父さんなど、なかなか、親御さん達も一生懸命アイデアを絞り、惜しまぬ努力をしているよう。
さてと、我が家では。。。
ご覧のように、陸は黒猫に。私の場合、自分で衣装を縫おう、つくろうなんて勇気は全くなく、また手数もかけたくなかったので、昼休みに近くのショッピングセンターへ足を運ぶことに。
でも、黒猫のアイデアは、ショッピングする前から、もう決めていましたね。うん。選んだ理由は、陸の走り方が猫に似ている(?)こと、と「お母さんと一緒」のビデオで「マネキ猫」が彼の一番好きな歌と、いうことかな。(笑)
そんな黒猫の陸。なんとこのコスチュームが大変気に入ったらしく、着るたびに、ジャンプしながら家中を駆け回ります。本人もすっかり自分は「お母さんと一緒」の猫になったと信じ込んでいるよう。「Neko, Neko, Neko」と、走りながら歌っている始末。
でも、今日でハロウィーンはお終い。
お気に入りの黒猫の衣装を纏い、目を丸くしながら、沢山の仮装した子供達にキャンディを渡していた陸。はたしてこの子は明日もこのコスチュームを着たいと思うのかな。
まぁ、いずれにしても、この黒猫の衣装は思い出の為にずっと箪笥の奥に眠らせておくことにしましょう。
今日一日、笑顔で。
Today is Halloween and it was a gorgeous day for it! I got to meet the kids in the neighborhood, and Riku had fun answering the door to give them candy. The costumes ranged from little princesses and Snow White, to Power Rangers, and some grotesque monsters, of course.
Riku is still young enough for me to choose his costume this year, and he was a furry black cat. He loves wearing the costume, and goes around singing a song Neko-Neko-Neko when he sees himself.

応援おねがいします。
人気blogランキング Thanks for visiting!